About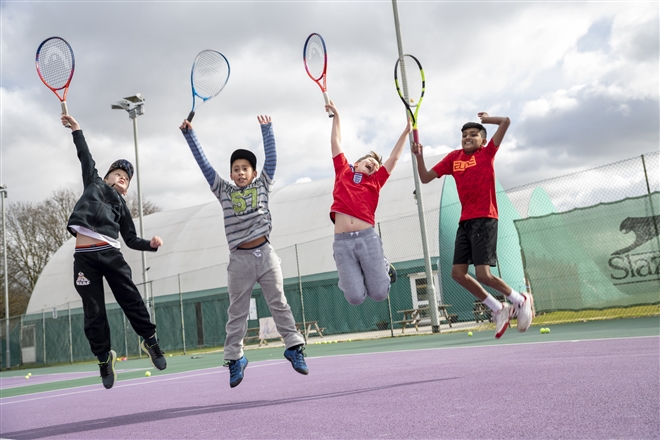 The coaching programme at City of Peterborough is proudly provided by i2c Play Tennis. The i2c Play Tennis coaching team is one of the largest in the UK, providing tennis coaching programmes at more than 25 tennis clubs and facilities across the UK.
Club programmes
We value participation in our programmes so we provide opportunities for all ages and abilities to play tennis. Our expert coaching team are trained in coaching children and adults, beginners to high-performance juniors and wheelchair tennis. We also offer customised programmes for players with a disability.
Our programmes run for 45 weeks of the year with breaks for 2 weeks at Christmas, Easter and the summer holidays plus one extra week for the coach to take.
Group coaching
Focus Groups: 45 or 60 minutes - max. 6 players - individual coaching within the group
Training Groups: 60 or 90 minutes - up to 12 players - drills and practices to improve performance
Sessions paid for montly by direct debit
Pay & play
Pay as you go weekly or monthly group sessions
Individual coaching
One-to-one sessions organised and paid for directly with your coach to develop your own personalised coaching programme
i2c coaching team at City of Peterborough
All i2c tennis coaches are LTA Accredited with valid DBS, Safeguarding and First Aid qualifications.
Meet our outstanding team!
Anita Duff - Peterborough Area Manager - Level 3 Club Coach 07484641253
Anita swapped her love of playing the game to coaching over 10 years ago working in and around the Peterborough area, in schools and clubs. After taking a break and working in education, she has now returned to the court.
Max Lambert Head Coach and Level 3 Club Coach 07952 310532 - Maxlambert@sky.com
Max is currently HEAD COACH and a Level 3 coach. His main job role is to grow tennis in Peterborough and ensure there is enough activities (social/competitive) for all members and non members of the Peterborough clubs. He is actively engaged in the Cambs County performance pathway to ensure our players can achieve their full potential. Max was recently awarded CAMBRIGESHIRE LTA COACH OF THE YEAR in recognition of all his hard work in increasing participation all over the Peterborough Area.
Katrin Turvey level 4 Club Coach 07775008811
Katrin played as a professional, competing in the WTA & ITF tour. She also played team tennis in Germany alongside Kim Clijsters, Barbara Schett and other world class players. She reached a career high of #317 in Singles and #385 in Doubles. After her professional career Katrin turned to coaching and has coached in Germany and Spain before moving to the UK.
James Mendes - PTR Level 3 Coach 07562 004826
James has been involved in tennis for over 25 years as a player and coach, 13 of which professionally. He has worked in several countries: as Head Coach of an academy in the UK; with ITF performance players in India, one of two players he toured with to the Road to Wimbledon in 2014 won the event; Head Coach of the 10 & Under Programme at Tennis Auckland, the largest regional federation in New Zealand; three years spent on the clay in Austria, tennis camps in the USA, and volunteering in Kenya. James is also a Sports Massage Therapist with a Level 3 Diploma, has studied Sport Psychology at Loughborough University, and is working towards his Master of Tennis, the Professional Tennis Registry's Level 5. He looks forward to being part of Peterborough's progression in tennis.
Phil Watson level 3 Club Coach 07791646365
Phil has a vast amount of experience and knowledge having played tennis to a high standard locally for many years and, as a junior, he represented Cambridgeshire at County week. He is currently active with the Seniors Over 50's County Cup league (playing both singles and doubles) and has represented both the Royal Air Force and Combined Services tennis teams, often playing on the prestigious grass courts at Wimbledon. Now level 3 qualified, he is keen to share his passion and help others with their tennis.
James Puttrell Level 2 Club Coach 07568547205
James is a newly qualified level two coach and as a seasoned A team player. James has played tennis from a very young age and has heaps of experience from his high level play. James has won the Club Championships singles and mixed doubles for the last two years in a row.
Bart Pilinski - Level 2 Club Coach - 07711 958455
Bart has come from a well rounded sporting background after studying sports coaching at college. During College Bart decided that he wants to specialise in tennis and has since completed his level 1 & 2 Awards. Bart now leads his own sessions and helps deliver our school outreach programme.
City of Peterborough
The Club has an active membership, with regular Club evenings and afternoons, as well as men's, ladies and mixed teams that compete in local leagues.
The Club boasts
2 New indoor Acrylic courts all year round under a fabric framed structure. The sides can be opened in summer for air flow
3 resurfaced all weather macadem hard courts
Our welcoming clubhouse provides changing facilities and a sports bar
Visit the club website