About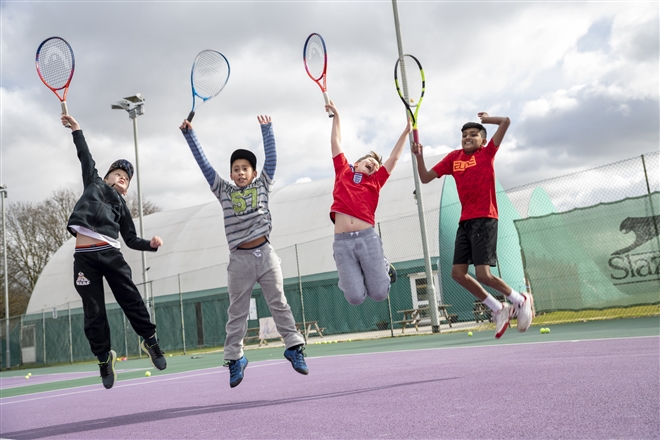 The coaching programme at City of Peterborough is proudly provided by i2c Play Tennis. The i2c Play Tennis coaching team is one of the largest in the UK, providing tennis coaching programmes at more than 25 tennis clubs and facilities across the UK.
Club programmes
We value participation in our programmes so we provide opportunities for all ages and abilities to play tennis. Our expert coaching team are trained in coaching children and adults, beginners to high-performance juniors and wheelchair tennis. We also offer customised programmes for players with a disability.
Our programmes run for 45 weeks of the year with breaks for 2 weeks at Christmas, Easter and the summer holidays plus one extra week for the coach to take.
Group coaching
Focus Groups: 45 or 60 minutes - max. 6 players - individual coaching within the group
Training Groups: 60 or 90 minutes - up to 12 players - drills and practices to improve performance
Sessions paid for montly by direct debit
Pay & play
Pay as you go weekly or monthly group sessions
Individual coaching
One-to-one sessions organised and paid for directly with your coach to develop your own personalised coaching programme
i2c coaching team at City of Peterborough
All i2c tennis coaches are LTA Accredited with valid DBS, Safeguarding and First Aid qualifications.
Meet our outstanding team!
Max Lambert; Max is currently HEAD COACH and a Level 3 coach. His main job role is to grow tennis in Peterborough and ensure there is enough activities (social/competitive) for all members and non members of the Peterborough clubs.
Katrin Turvey; Katrin played as a professional, competing in the WTA & ITF tour. She also played team tennis in Germany alongside Kim Clijsters, Barbara Schett and other world class players. She reached a career high of #317 in Singles and #385 in Doubles. After her professional career Katrin turned to coaching and has coached in Germany and Spain before moving to the UK.
Anita Duff; Anita swapped her love of playing the game to coaching over 10 years ago working in and around the Peterborough area, in schools and clubs. After taking a break and working in education, she has now returned to the court.
James Puttrell; James is a newly qualified level two coach with bags of energy and enthusiasm and as a seasoned A team player himself is keen to share his love of tennis with our members.
City of Peterborough
The Club has an active membership, with regular Club evenings and afternoons, as well as men's, ladies and mixed teams that compete in local leagues.
The Club boasts
2 New indoor Acrylic courts all year round under a fabric framed structure. The sides can be opened in summer for air flow
3 resurfaced all weather macadem hard courts
Our welcoming clubhouse provides changing facilities and a sports bar
Visit the club website